As the sun rose over the Chagrin River a hot chrome hen tail-walked in the mist across the river. It's gonna be a good day Tater!

It's always nice to start the day on familiar waters. The Chag didn't let me down yesterday. I fished her for a couple of hours and moved on to the Grand River.
The Grand's flow was finally coming down, but when I arrived on the scene, the visibility was still pretty poor. What to do?
A friend recently told me to consider Paine Creek sometime when the major tribs are blown. I had already seen a couple other Grand River feeder creeks and they were low and clear (even less ideal). But Paine Creek is supposed to be very scenic and boasts a well known waterfall. So, I thought I would waste some time surveying the creek and just enjoy the hike. Any fish would be a bonus. My hope was that the Grand would continue to improve and I could get back to her later.
Upon arriving at the creek, I noticed there were several Lake Metroparks trucks in the area with numerous rangers trolling up and down the creek on all-terrain vehicles with large tanks on them. I stopped and talked to the rangers. They were stocking rainbow trout in the creek.

This is not my style of fishing, but I had time to burn. I joked to one of the rangers that had I known this situation was going to arise today, I would have brought my 3wt rod. He immediately responded, "You better stick to that heavy rod. We've stocked some really large rainbows and some extra steelhead from the hatchery are mixed in as well."

So, I started my hike up the creek. All I can say is that this is a stunning creek. The hike alone was worth the day.

I tied on a single egg pattern and a small beadhead Prince nymph. The flow in the creek was pretty low, so I decided a tiny strike indicator might be helpful. I made a drift across a deep hole and quickly caught a feisty little bow.
I continued to make my way up this majestic creek enjoying my Friday smoke and catching rainbows left and right. And yes, I was routinely catching fish in the 20" range...which is what I thought the ranger meant by "steelhead size."

I fished that creek from about 11:00am until 5:00pm and had a ball. I endured a couple of thunderstorms. I suspect I caught 30-40 rainbows along the way. All the while I was thinking how great would it be to have my kids with me?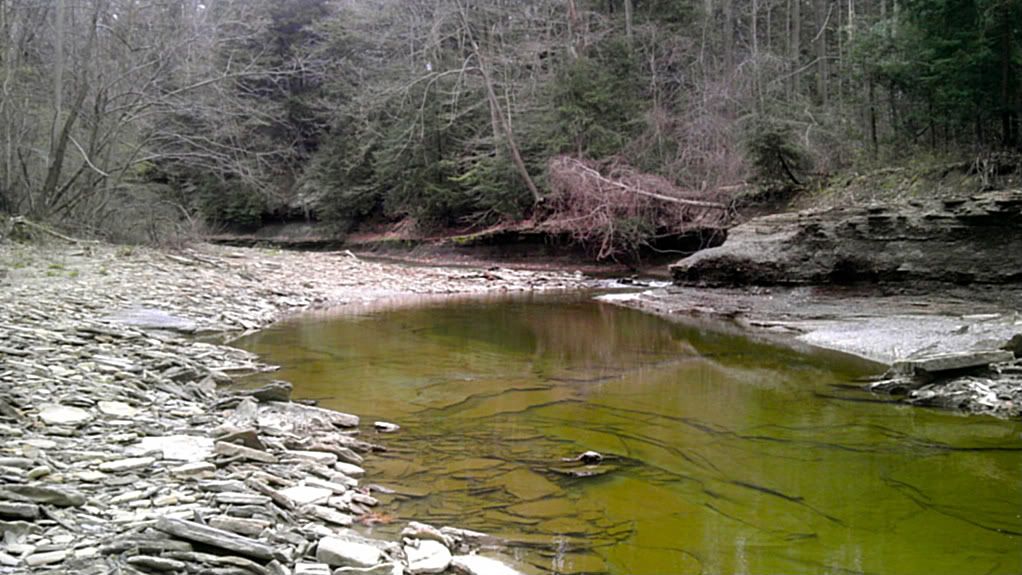 I wanted to head back down to the main river and make a few swings for some fresh chrome. As I walked down the creek, I noticed a couple of large shadows in a pool. I was not sure if they were steelhead or maybe even carp. I made a drift through the pool and a huge rainbow came up and hit my strike indicator. Pellet-head! I made a 2nd drift and he hit the indicator again. Strangely, I don't carry any dry flies or strike indicators with hooks in them in my steelhead box. I made a third drift and this time my indicator stopped cold and something HUGE came out of the water with my CopperJohn in it's mouth. It was on!

This thing was powerful and energized. Man did it have shoulders on it. I knew it was big, but sometimes it's just hard to tell how big until it hits the net. I had the fish near the net for a moment and it shot off again. In that moment I saw the girthiest rainbow of my life. This thing had king salmon shoulders on it.

The fish and I went back and forth several times and finally I got it in the net. HEAVY! This fish had to weigh 15lbs. I measured the fish and it was 30" long and 20 inches in girth. WHAT? I'll tell you what. We call that a Pellet-Hog. It was a steelhead, but it had to be a stocker from the hatchery. No steelhead out of the lake hits your strike indicator.
As I was leaving the creek, I ran into the rangers again. They were coming in to do a little fishing themselves. I mentioned the fish I had just caught. The ranger just laughed and said, "I told you that heavy rod would be fine. Those fish are from the Castalia Hatchery and they threw in a few of their big steelhead stock as well."

Kudos to the
Lake Metroparks for putting together such a nice stocking program on their creeks. As I thought about it through the day, I remembered, the point of this blog is to help folks with limited time maximize there time in the outdoors. So yea, across the board, I really don't like to chase stockies. But, when your time is limited, I have to tell you...you can't beat this little Paine Creek for a good time. It may not be Montana, but when you see the beauty of the creek and bring a few nice rainbows to hand, you'll be glad you took a few hours out of your week to be there. I liked it so much, I'm going to take one of my daughters back today. I can't wait to share it with her!
UPDATE: 4/3/11 - I received word from another local fisheries biologist concerning the big TOAD this morning. He said he was stocking some of their streams yesterday and they use the same supplier as Lake Metroparks. The same gentleman supplied the fish for Paine Creek last Friday. He said he did NOT put any 10lb+ fish in Paine Creek and that slab has to be from the Lake Erie. Interesting. I have seen steelhead surface and I read reports every year about them being caught on dry flies. I have never had one repeatedly hit a strike indicator. I guess that's what happens when steelhead don't read the books we write about them ;)